Do you struggle with putting your thoughts and stories on paper? Are productivity tricks falling short for you? Do you crave a consistent writing habit?
Enter The Write Habit planner — a writer's game-changer. It's more than just a calendar; it's a toolkit to help you:
Plan your writing projects
Set aside weekly writing time
Develop simple habits for a regular writing flow
No complicated methods to learn—just grab the planner and live the 'write habit' daily. Inside, you'll find:
Pages to review the past year and set your vision
Detailed goal-setting templates for each project
12 monthly goal sheets and reflection prompts
52 weekly spreads to plan, time block & track your writing
Proven coaching tools to beat procrastination
Forthcoming on Amazon October 31st.
Look inside…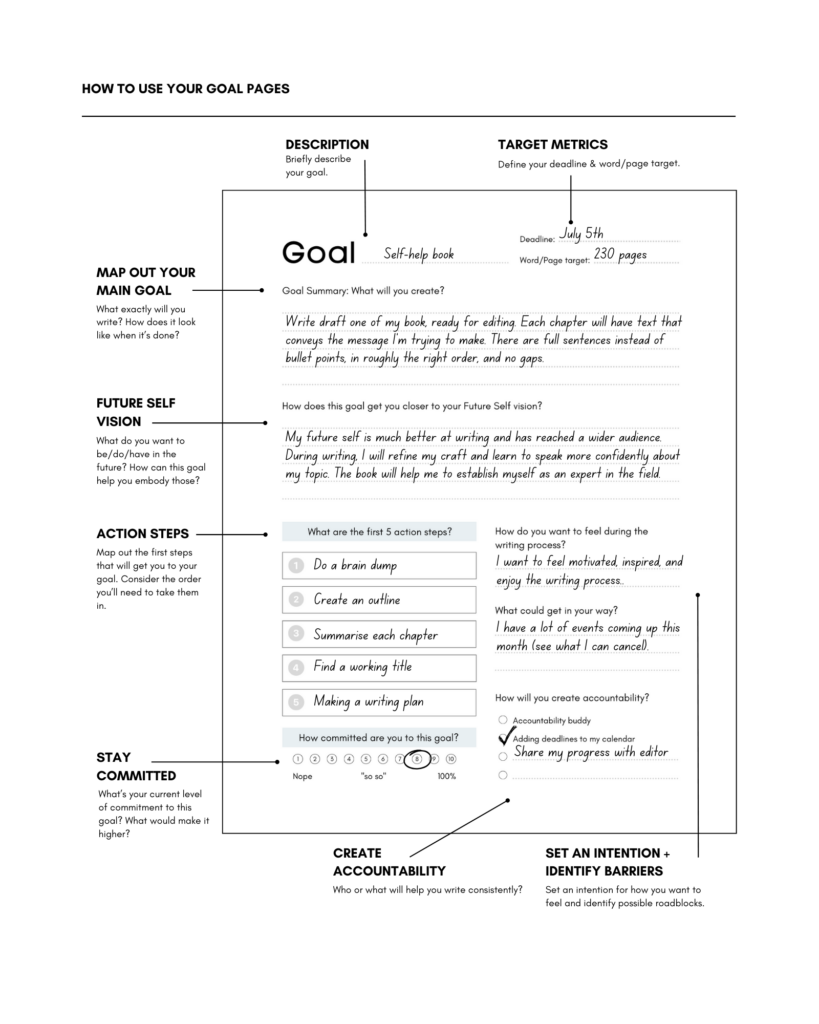 Ready to Plan Your Goals? Get started
Congratulations on purchasing The Write Habit planner! You've joined a community of hundreds of writers who consistently work on their projects.
Simply enter your information below to unlock a walk-through, goal setting tutorials, and downloadable resources.
(coming soon)
---
Review the Write Habit Planner and Unlock Exclusive Coaching!
Join me in my mission to share this incredible planner with writers worldwide! Be a part of this movement by leaving a review on Amazon after you've grabbed your own copy.
As a gesture of appreciation, I'd love to reward you with exclusive access to my coveted coaching program, "7-Day Write Habit Booster."
Here's how you can do it:
Snap a screenshot of your Amazon review.
Email it to writehabitplanner (at) gmail.com.
Stay tuned for an email that grants you VIP access to the program!
Let's amplify the writing community together!
---
Reviews
"A perfect writerly companion – especially for those who suffer from perfectionism and procrastination – I wish I'd had this book before getting published!"
— Menna Van Praag, author of the fantasy trilogy, The Sisters Grimm, Night of Demons and Saints, and Child of Earth and Sky.
"This is an excellent tool for making small changes with big results, designed specifically for writers. The Write Habit planner doesn't tell you what to do–it asks you what you want to do, and then helps you do it. Dr Nicole Janz's insightful questions invite you to figure out what matters most to you, what's in the way, and how you're going to make room for small steps that will eventually add up to a journey you're proud of."
— Emily Winslow, author of a series of Cambridge-set crime novels, the memoir Jane Doe January, and the creative writing guide Time to Write.
"As writers, we rely on two motivational drivers: the pull to create and the push that comes from within to get the job done. This planner is our friend and guide. It offers focus, direction, structure and self-discipline, all couched in a practical, reassuring, encouraging tone designed to boost our self-belief and give us the push we need."
— Derek Niemann, author of A Nazi in the Family, A Tale of Trees and Birds in a Cage, creative writing tutor at the University of Cambridge, and Guardian country diary columnist.